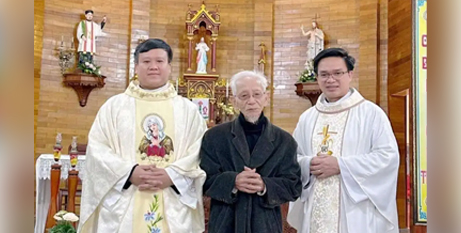 A bishop in Vietnam has disowned a priest ordained for his diocese in the Philippines when the laity questioned the new priest's worthiness, saying that he was once jailed for bribery and not known to have trained in a seminary. Source: UCA News.
Bishop Alfonse Nguyen Huu Long of Vinh diocese in central Vietnam issued a statement on February 10 disowning Fr John Baptist Ho Huu Hoa, three months after he was ordained by Bishop Precioso Cantillas of Maasin in the Philippines.
Bishop Long said he was "surprised" by Fr Hoa's ordination and asked him to "present the documents of his ordination so that he could celebrate sacraments validly, but so far I have not received any documents from him or Maasin Diocese," Bishop Long said in the statement.
A video of the December 7 ordination ceremony that went viral on social media shows the priest chancellor of Maasin Diocese reading out Bishop Long's dimissorial letter — a canonical document issued by a bishop to a person in his diocese so he can be ordained by another bishop.
The letter "is completely fake" Bishop Long's statement said, adding that Fr Hoa's ordination is "under investigation."
The priestly ordination of the 38-year-old came just over a year after he was released from prison, according to local reports, which shows he could not have had the mandatory four years of theology training in a seminary.
Fr Hoa was arrested in 2019 for allegedly helping a former police intelligence colonel to bribe a lieutenant-general to the tune of 5 billion dong ($A306,000) to interfere with a criminal case against him, Radio Free Asia reported.
Fr Hoa was arrested in March 2019 and was held in temporary detention until being released in November 2021, local reports show.
He was ordained as a deacon on September 8, 2022, in the Philippines, just over nine months after his release.
Vinh diocesan officials were not available for comments on the ordination when UCA News contacted them.
FULL STORY
'Fake' ordination scandal rocks Vietnamese diocese (UCA News)