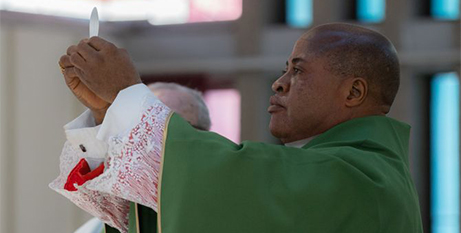 After Nigeria was recognised as having the highest Mass attendance in the world, the African nation's youngest cardinal has shared some of the secrets behind his country's vibrant sacramental life. Source: CNA.
A recent study found that 94 per cent of Nigeria's 30 million Catholics say they attend Mass at least weekly or more, while only 17 per cent of American Catholics attend Mass weekly.
Cardinal Peter Ebere Okpaleke, 59, who leads the southern Nigerian diocese of Ekwulobia, sees three key factors behind the active participation of Catholics in Nigeria.
Cardinal Okpaleke believes Nigeria's traditional worldview, the role of the family, and a sense of community within parishes have kept Nigerians close to the sacraments generation after generation.
Nigerian society as a whole has "a traditional worldview" that recognises the presence of God in life and society, according to Cardinal Okpaleke.
"There is a general awareness of the role of the divine in human life. It is this awareness that translates into Mass attendance for Catholics, who come to Mass to encounter Christ in the Eucharist," the cardinal said.
He noted that high Mass attendance "cuts across income brackets" with the poor and the rich, the uneducated and the educated all drawn to the sacraments by a shared desire for God.
In other parts of the world where secularisation has atrophied a culture's sense of the divine, the Church can benefit by emphasising how it is a "gateway" that fulfils the "inner hunger in the human being to relate to the divine," he said.
In Nigeria, the family is viewed as the primary place where the "faith is handed over to the next generation," Cardinal Okpaleke said.
He recommends that Catholics around the world "pay pastoral attention to the family as the domestic church because that is where everyone's faith experience is formed."
FULL STORY
Nigeria's newest cardinal shares secret behind the highest Mass attendance in the world (By Courtney Mares, CNA)