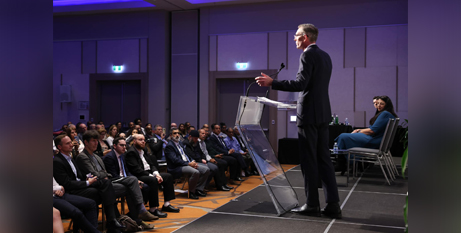 New South Wales Premier Dominic Perrottet has promised not to ban prayer or preaching as part of laws to be introduced in the next Parliament to end so-called gay conversion therapy. Source: The Guardian.
Speaking to a crowd of mixed-faith leaders and voters in Parramatta last night, Mr Perrottet vowed to take a "balanced approach" and protect religious freedoms as the Government cracks down on harmful practices.
"We will not ban prayer, we will not ban preaching. That is fundamental to freedom of religion," he told the forum of about 150 people. "We can do both."
Some religious leaders are concerned that any legislation might place limitations on what can be preached about marriage, human sexuality and gender.
But Mr Perrottet assured Monica Doumit of the Sydney Archdiocese that it would not stop someone who "wants to live in accordance with their religious beliefs seeking prayer-based support".
He also announced the NSW Government would put $10 million towards securing places of worship including religious schools and communities facing "demonstrated" security risks.
Money could be put towards measures including security services, lighting, fencing, CCTV and staff training.
Leaders present from the Jewish, Christian, Hindu and Islamic communities thanked Mr Perrottet for the support, while pushing him to do more to strengthen legal protections for people of faith, including a provision to deal with the vilification of religious people.
FULL STORY
NSW: Perrottet says religious freedoms will not be affected by laws to stop gay conversion therapy (By Tamsin Rose, The Guardian)