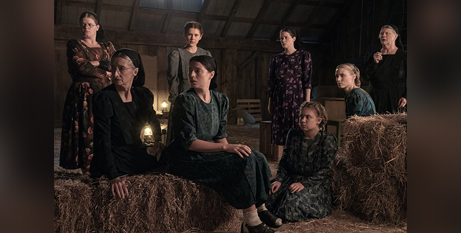 In Women Talking, three generations of women experience sexual abuse in their reclusive faith community and meet to decide what they must do: stay, stay and fight, or leave. Source: Jesuit Media.
Written and directed by Canadian filmmaker Sarah Polley, Women Talking is a complex film based on Miriam Toews' 2018 novel of the same name. On the surface, it is straightforward. Set in Canada, a group of women in an isolated Mennonite community gather to determine what is to be done, if anything, about the doping and sexual abuse of young girls and women by their predatory husbands and fathers.
When most of the men leave the colony for two days to support those arrested for their crimes, a plebiscite is taken by the women to determine three things: whether to stay in the community and accept their lot, remain and fight, or leave for a better life.
When the vote is tied, a group of 11 women elect to meet in a hayloft to decide what action should be taken before the men return. None of the women in the colony are literate, and the minutes of their discussions are taken down by the sole sympathetic male who remains to attend to the women's needs.
Women Talking is exactly that: a talkfest about misogyny and female slavery in the past and the here-and-now. Inspired as the novel was by events in a Mennonite community in Bolivia in 2010, it is difficult to believe at first that we are not watching an updated version of Arthur Miller's The Crucible. But in today's world and in the past, there is nothing atypical or out of the ordinary about the fear and hatred of women.
Review by Jan Epstein, Jesuit Media
Women Talking: Starring Rooney Mara, Claire Foy, Jessie Buckley, Judith Ivey, Sheila McCarthy, Frances McDormand, August Winter, Ben Whishaw. Directed by Sarah Polley. 104 minutes. Rated M (Pervasive themes of abuse, coarse language and frequent references to sexual violence).
FULL REVIEW
Women Talking (Jesuit Media via Australian Catholics)