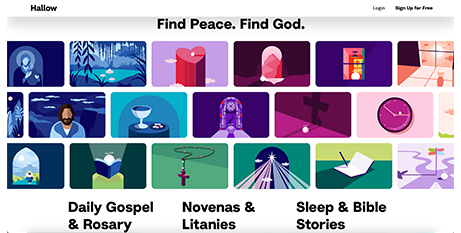 Australian Catholic University has teamed up with the world's leading Catholic prayer and meditation app to offer students and staff a free personal prayer resource during Lent and beyond.
The partnership with Hallow, an American-based Catholic prayer app, will give ACU students and staff free access to the app's Premium subscription service for one year.
Members of the ACU community will gain access to over 5000 audio-guided prayers and meditations, including sleep meditations voiced by Hollywood actors Mark Wahlberg and Mario Lopez, as well as well-known clergy Fr Mike Schmitz and Bishop Robert Barron.
ACU Vice-President Fr Anthony Casamento csma said the partnership with Hallow opens more opportunities for the university community to pray.
"ACU is delighted to have worked with Hallow App to make it available to our staff and students, particularly as the entire Church moves closer to Lent," Fr Casamento said.
"Recognising the reality of modern life, Hallow App enables a quick and easy-to-use resource for all those who are busy but still want to grow in their spiritual lives, all in the palm of your hand."
Fr Casamento said the partnership with Hallow followed a positive response to last year's launch of the ACU Book of Prayer.
"Our recent partnership with Hallow continues ACU's commitment to ensuring our university community has access to resources that can enhance or kickstart their personal prayer lives."
FULL STORY
ACU partnering with Catholic prayer and meditation app Hallow (ACU)