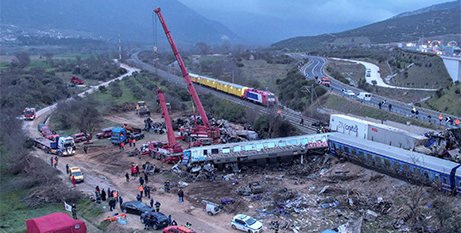 Pope Francis sent a message yesterday saying he was praying for the victims of a train crash in northern Greece, in which at least 36 people died and more than 75 were hospitalised. Source: National Catholic Register.
Authorities say two trains collided near the Vale of Tempe, a river valley about 378 kilometres north of Athens, just before midnight on Tuesday.
The cause of the crash between the passenger and freight trains is unknown. The stationmaster in the nearby city of Larissa was arrested by authorities on Wednesday, according to the Associated Press. Two other people were detained for questioning.
Rescuers were still searching the debris of several smashed train carriages yesterday. Multiple carriages were derailed and at least one caught fire. Greece's state broadcaster ERT reported that some people were thrown from the train by the impact and victims' bodies were found 30-40 meters from the crash site.
Pope Francis "was saddened to learn of the loss of life and injury caused by the train crash near Larissa, and he sends the assurance of his prayers to everyone affected by this tragedy," his telegram to the bishops of Greece said yesterday.
"Entrusting the souls of the deceased to the loving mercy of God, [Pope Francis] offers heartfelt condolences to the families who mourn their loved ones," the message continued. "To the injured, the emergency workers, and all those providing assistance, His Holiness imparts his blessing as a pledge of strength and solidarity in the Lord."
Greece's Minister of Transport, Kostas Karamanlis, resigned following the crash, calling it his duty "as a basic indication of respect for the memory of the people who died so unfairly".
FULL STORY
Pope Francis Prays for Victims of Deadly Train Crash in Greece (By Hannah Brockhaus, CNA via National Catholic Register)
RELATED COVERAGE
Pope sends condolences for deadly train collision in Greece (Vatican News)