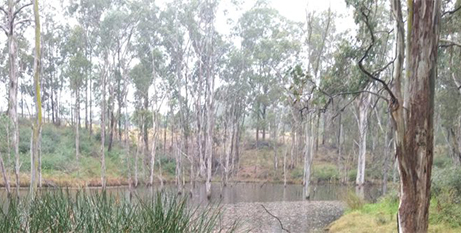 The Sisters of the Good Samaritan are withdrawing from the stewardship of their Wivenhoe landholding at Cobbitty in New South Wales, which the Sisters have owned since 1910. Source: The Good Oil.
In handing over the land, the Sisters will ensure ongoing security for the Mater Dei School and gift 200 hectares of conservation land to the people of the state as a national park.
Good Samaritan Sister Catherine McCahill said while there was considerable sadness in handing over the historic property into the care of others, it was the right time.
"It's the right time for us and it's the right time in the cycle of the ecological work which has been going on at the site," she said.
Sr Catherine said one of the key drivers of the decision was the desire for the Mater Dei School to have its own piece of land, in line with other Good Samaritan Education schools since 2016.
"Because it's located all together on this one large piece of land, we had to cut out a piece for Mater Dei, which required rezoning from Camden City Council," she said.
"At the same time, we were coming to the sense that it was time to hand over the Wivenhoe land to others. But a lot of the property is ecologically sensitive land and we wanted it protected in perpetuity."
As well as transferring the Mater Dei School land to Good Samaritan Education for the use of the school, the nearby Aspect School for children with autism will also have the opportunity to acquire the land on which it stands.
"So, while there is certainly some sadness, this is a great outcome for Mater Dei, for the Aspect School, for the land itself and for the people of NSW who will receive 200 hectares of restored land along the Nepean River. It's a positive outcome all round," " Sr Catherine said.
FULL STORY
Wivenhoe Conservation Area leaves a legacy of ecological renewal (By Debra Vermeer, The Good Oil)