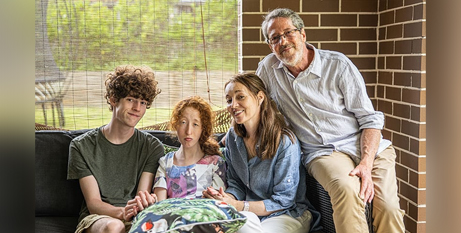 After 17 years in Australia, the Donagemma family is praying that they won't be forced apart by immigration rules when their youngest daughter desperately needs them to stay together. Source: The Catholic Weekly.
Benedetta, who was born just before her twin Matteo, is non-verbal and has a developmental delay due to a rare chromosomal difference.
The pair turned 18 last November and while Matteo has a student visa, Benedetta has been dependent on their parents' visas which both expire in March.
Her father Vanni, a geologist, was invited to work in Australia from Italy in 2006 and with his wife Elisa made their home first in Perth, then Sydney, and raised their five children – Francisco, 26, Andrea, 24, Chiara, 21, and the twins. The family belong the St Agatha's parish in Pennant Hills in Sydney's northwest.
Vanni lost his job in 2021 due to the COVID pandemic and has been looking for work that aligns with his 30 years' experience in the oil and gas sector.
In a few weeks if he can't find a suitable employer willing to sponsor him and unless the Minister for Immigration decides to intervene in their case, Vanni and Elisa will be forced to take Benedetta and leave Australia permanently, ripping the loving family apart.
She will be separated from her siblings including her twin and will never be able to return to live due to Australia's restrictions on migrants and refugees with disability.
The Donagemmas argue that their daughter is not a burden, and while she may not be able to secure employment in her future, she is one of a close-knit family of seven where the other six are already employed or employable and happy to pay taxes.
Her sister Chiara has even represented Australia four times as a national synchronised ice-skating champion.
"We are Italian but our children are Australian, they grew up here. There is no future for them in Italy."
FULL STORY
Migration rules will separate Catholic family (By Marilyn Rodrigues, The Catholic Weekly)