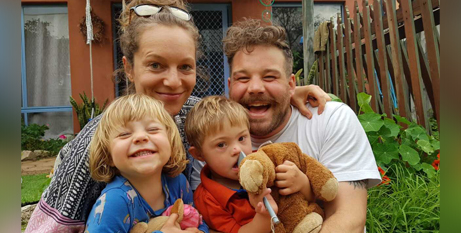 Families of children with Down syndrome seeking visas to stay in Australia are feeling hopeful after a Perth family was granted permanent residency following a ministerial intervention – but discrimination remains. Source: SBS News.
Tom Owen was overwhelmed by this week's news that a Perth family with a child who has Down syndrome was granted a permanent visa to stay in Australia.
The 39-year-old carpenter, who also lives in Perth, has worked in Australia on and off for nine years and is facing his own battle to stay in the country after his employer-sponsored visa application was rejected because his six-year-old son Jakob has Down syndrome.
Mr Owen is from the UK and his wife, Rosa Schulze-Osthoff, is from Germany. Despite Mr Owen being considered a skilled worker, the Government is able to reject visas if an applicant has a health issue or disability deemed too costly to Australian taxpayers.
On Wednesday, it was revealed Minister for Immigration Andrew Giles had intervened in the case of Perth couple Aneesh Kollikkara and Krishna Aneesh who were facing deportation within weeks because one of their children has Down syndrome.
Mr Owen had already paid $5500 for an application for him and his wife to become Australian permanent residents when Jakob was born in Germany in 2016.
But Mr Owen said when he rang the Department after Jakob's birth, he was advised not to bother continuing to progress his visa application because of his son's diagnosis. He said he was told the family should instead apply for a refund, which ultimately was not granted.
Mr Owen was later successful in getting a four-year sponsored 457 visa but further applications have been rejected.
"The word goes around that Down syndrome kids should be accepted but then you've got rules like this in place that totally discriminate," Mr Owen said.
Labor last week confirmed it had engaged an expert to review the threshold for permanent residency applications. SBS News understands the expert is a health economist who works with the department.
FULL STORY
Visa hope for children with Down syndrome as Australia overturns family's rejection (SBS News)