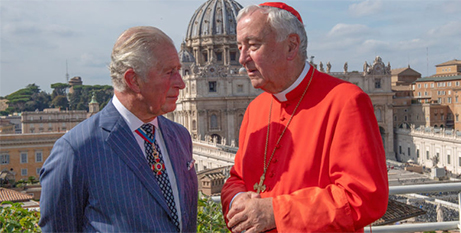 England's Cardinal Vincent Nichols has pledged the Church's "support and prayers" to King Charles III ahead of his May 6 coronation, as the new monarch praised the work of faith communities in national life. Source: OSV News.
"For so many years, we have observed your desire and unstinting efforts to explore and enhance the well-being of the entire human family, through your commitment to religious faith, protection of the environment and relief of poverty," Cardinal Nichols said.
"The Catholic community is profoundly supportive of these fundamental concerns, as we strive to offer our society, your kingdom, an education for young people that is rooted in faith and its consequent commitment to human dignity."
The cardinal spoke while heading a 12-member Catholic delegation to a March 9 ceremony in London's Buckingham Palace, during which similar pledges were made by the representatives of the Protestant Church of England and Church of Scotland and 27 other Christian denominations, as well as of Jewish communities, royal academies, city guilds and historic universities.
Cardinal Nichols said British Catholics remembered the "remarkable and unique role" played by Queen Elizabeth II and would give "support and prayers" to Charles III, while also appreciating his "steadfast opposition to religious persecution."
Meanwhile, King Charles paid tribute to the contribution of churches and other associations to the United Kingdom's "national fabric," and to advancing mutual knowledge and understanding.
"You remind us of an essential truth — that a nation's wealth and strength can be found, beyond the size of its economy or its place in the geopolitical landscape, in the values it embodies: mutual respect, diversity, tolerance, fairness and friendship," he said.
FULL STORY
King Charles III meets Catholic delegation, other religious leaders ahead of coronation (By Jonathan Luxmoore, OSV News)