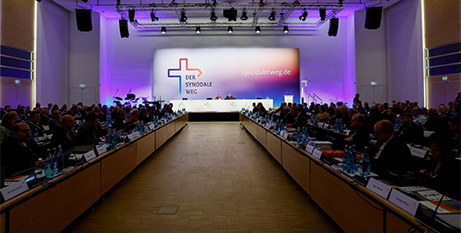 A meeting between Germany's Catholic bishops and lay representatives agreed on Friday to call for the Church to approve blessings of same-sex unions. Source: NCR Online.
The three-day gathering, which is part of the "Synodal Path" launched in 2019 in response to the sex abuse crisis that has rocked the Church in Germany and many other countries, brings together more than 200 representatives of Catholic life in Germany.
A majority of the 176 participants voted in favour of same-sex blessings, starting from March 2026. Fourteen participants voted against them, while 12 abstained. Crucially, the necessary two-thirds backing of the 67 German bishops was also reached, the news agency DPA reported.
Many congregations already perform such ceremonies, but these aren't formally approved by the Catholic Church, a position the Vatican restated in 2021.
Delegates also overwhelmingly passed measures to change Church practices based on transgender ideology and to push the universal Church to ordain women to the sacramental diaconate, CNA reports.
While the Germans pushed forward with these controversial measures, the assembly held back from crossing a line laid down by the Vatican concerning the establishment of synodal councils at the national, diocesan, and parochial levels.
The Vatican has said the synodal council model, which involves shared governance between bishops and the laity, is not consistent with Catholic ecclesiology.
The synodal assembly decided to delay voting on the proposal. Instead, it will be considered by a newly established synodal committee over the next three years, while Synodal Way leadership attempts to change the minds of Vatican officials and garner more widespread approval in the universal Church.
FULL STORY
German church reform assembly calls for same-sex blessings (AP via NCR Online)
Women's ordination, transgender ideology move forward at German Synodal Way (By Jonathan Liedl, CNA)