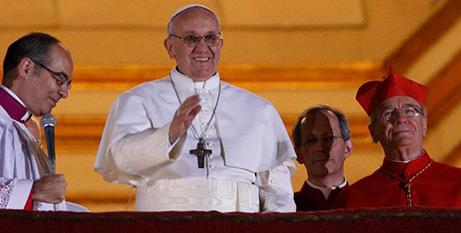 On March 13, 2013, the world's cardinals went to the ends of the earth to elect a successor to St Peter who would become the first pope from outside Europe. Source: The Catholic Weekly.
Relatively unknown outside South America, then-76-year-old Cardinal Jorge Mario Bergoglio SJ, the Archbishop of Buenos Aires, took the name Francis, from St Francis of Assisi.
Ten years later, Pope Francis' vision of a Church that is poor and for the poor has taken shape not only through his homilies, speeches and encyclicals, but through practical gestures.
From abandoning the papal palace to live in a hostel, washing the feet of prisoners on Holy Thursday, or building showers for the homeless in Rome, the Pope's dynamism continues to surprise.
Rev Professor Gerard Kelly from the Catholic Institute of Sydney believes Pope Francis has fully embraced the message of Matthew's Gospel where we learn about what Jesus' ministry to the marginalised meant in practical terms.
"In Matthew 25, we hear the powerful words, 'When I was hungry, you fed me, when I was sick, you visited me, when I was naked, you clothed me'," Professor Kelly said.
"What Pope Francis is trying to do is recover the centrality of that message which is so strong in the New Testament and he has indeed allowed that to shape the way he's engaged in ministry."
Professor Kelly said throughout his papacy, the Argentinian pontiff has sought to position the Church firmly in the modern world, from his landmark encyclical on care for creation, Laudato Si', through to his reflections on the need to support each other through the challenges of the COVID-19 pandemic in Fratelli Tutti.
One area where Pope Francis' call for mercy has been consistently strong across over the past decade has been his advocacy for refugees and asylum-seekers, especially for people displaced by war.
The country director for the Jesuit Refugee Service, Ms Tamara Domicelj, said Pope Francis has been an exceptional and consistent teacher and mobiliser who role models a great empathy towards refugees fleeing traumatic circumstances wherever they may be.
Another great admirer of Pope Francis, Sister Jo Brady rsj, said she has drawn great inspiration from the Pope's combination of a humble lifestyle and great vision for a missionary Church.
"I believe what he's trying to do is re-set Vatican II. He's picking up the best aspects of Vatican II and re-visiting them, especially around the participation of the laity that by virtue of their baptism, that they are called to an important role within the Church."
FULL STORY
Pope Francis marks 10th anniversary in Chair of Peter (By Michael Kenny, The Catholic Weekly)
RELATED COVERAGE
10th Anniversary of Pope Francis' Election (Crux)
At 10-year mark, Pope Francis seen as a global leader on the environment (NCR Online)
10 years of Pope Francis: Significantly more women working at the Vatican (Vatican News)
'The Figure of a Father': Cardinal Ouellet on 10 Years with Pope Francis (National Catholic Register)