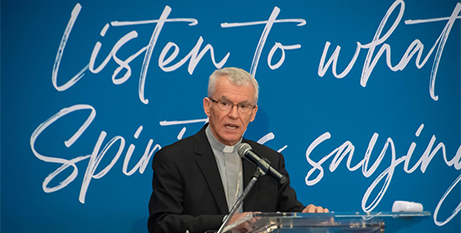 Three members of the preparatory commission for the assembly of the Synod of Bishops, including Perth Archbishop Timothy Costelloe SDB, said they know some Catholics have high expectations for the process while others have intense anxiety. Source: CNS.
The seven-member commission met at the Vatican on March 13-16 and had an audience with Pope Francis on the last day of their gathering.
Bishop Daniel E Flores of Brownsville, Texas, who has been coordinating the Synod process for the bishops of the United States, was one of the members whose appointment was announced by the Vatican on March 15.
He said the meeting with the Pope was "very encouraging" because "he speaks very beautifully about the Church and about how close to his heart is the issue of participation and building up communion".
Pope Francis, he said, knows some people have exaggerated expectations for the Synod while others have exaggerated anxiety because it is not completely clear where the process is leading, although the Pope has spoken frequently about strengthening a "synodal church," one in which all the baptised members listen to one another and share responsibility for the Church's life and mission.
The commission members have not been told if they would be full voting members of the Synod, but Bishop Flores said it is likely.
That would mean that Mercedarian Sister Shizue "Filo" Hirota from Tokyo, the only woman on the commission, would be a voting member of the Synod.
Sr Hirota said the Synod "should be a prayerful, spiritual reflection" for all the assembly participants, so the conversation is not an intellectual debate, but an experience of the Holy Spirit moving through the community gathered in the synod hall.
Archbishop Costelloe, president of the Australian Catholic Bishops Conference, brings with him the experience of the four-year process of Australia's Plenary Council, which concluded in July 2022.
Having an atmosphere of "prayer and deep reflection" at the Plenary Council, he said, "seemed to me to create a deep sense of respect for each other," and he hopes that will be repeated at the Synod assembly in Rome in October.
FULL STORY
Commission focuses on ensuring synod will be prayerful experience (By Cindy Wooden, CNS via USCCB)