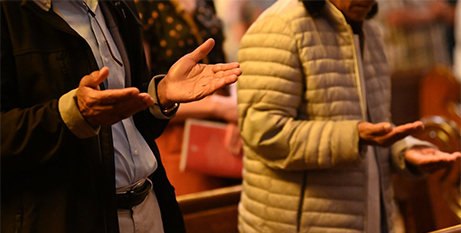 Catholic communities in Melbourne Archdiocese, including the Catholic prison population, will unite in prayer over the next three days during "Fiat – A Weekend of Prayer". Source: Melbourne Catholic.
Melbourne Archbishop Peter A Comensoli said that this weekend, which coincides with the Feast of the Annunciation of the Lord tomorrow, "promises to be a moment of grace for the local Church, as together we meditate on Mary's fiat, her total 'yes'."
While parishes, communities and movements throughout the archdiocese have planned opportunities for prayer, so too have the team of chaplains from CatholicCare Victoria's Catholic Prison Ministry.
Sr Mary O'Shannassy SGS OAM leads the team of chaplains who serve in 10 adult prisons in the archdiocese, in both metropolitan and rural areas. Sr Mary said it was important that the residents in prison feel they "belong" and that they have opportunities to participate, where they can, in the activities of the archdiocese.
She said the chaplaincy team "will need to be very creative" in its approach to the weekend's activities of prayer as there are scheduled times for the use of the chapels in the various prisons. The chapel spaces are shared with chaplains from eight different faith traditions.
"We'll be utilising those times when the people come over to the chapels, and we'll be informing them of the opportunity to join with the Archdiocese of Melbourne in prayer," Sr Mary said.
"It's a tight schedule, so we'll be meeting in small groups when the chaplains are there for prayer and Scripture sharing, maybe also praying the Rosary and we will be preparing a small handout with Scripture suggestions for them and offering the residents some tips on how to use their own quiet time for prayer."
Details: Fiat – A Weekend of Prayer
FULL STORY
Parishes and movements prepare for 'Fiat—A Weekend of Prayer' (Melbourne Catholic)
RELATED COVERAGE
Fiat—A Weekend of Prayer (Melbourne Catholic)