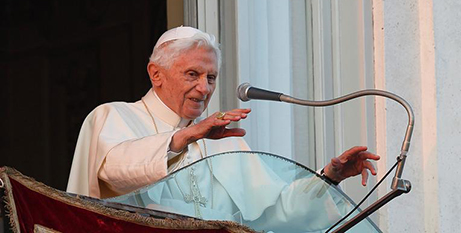 A potential legal case against the late pope Benedict XVI over his handling of abuse during his time as archbishop of Munich has been dropped. Source: CNA.
The public prosecutor's office in Munich said on Tuesday it had "discontinued its investigations" against cardinals Joseph Ratzinger and Friedrich Wetter.
The accusations had been investigated in the wake of the Munich abuse report, which raised allegations that "there could be misconduct on the part of Church officials in positions of responsibility".
Cardinal Ratzinger, who would later become Pope Benedict XVI, served as archbishop of Munich and Freising from 1977 to 1982.
The Munich abuse report was released in January 2022 and criticised Pope Benedict XVI and his successors, Cardinal Friedrich Wetter and Cardinal Reinhard Marx.
The study criticised the late German pope's handling of four cases during his time in charge of the southern German archdiocese.
Benedict XVI, who strongly denied cover-up allegations, sent 82 pages of observations to investigators compiling the report.
On Tuesday, the public prosecutor's office said: "In each case, the investigations did not reveal sufficient suspicion of criminal activity on the part of those responsible for personnel, which is why the preliminary proceedings were discontinued."
In two cases in which cardinal Ratzinger was considered an accused, "the examinations led to the conclusion that either no main offence eligible for assistance could be proven or, in any case, such an offence could no longer be prosecuted due to the occurrence of the statute of limitations."
"From a legal point of view, it must be emphasised that the object of investigation of the prosecutor's investigations was not acts of abuse committed by the Church personnel managers themselves, but possible acts of aiding and abetting by active action or omission," the prosecutor's office said.
FULL STORY
Prosecutors drop case of alleged 'cover-up' against Benedict XVI (AC Wimmer, CNA)