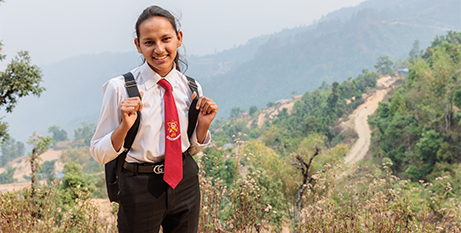 Throughout Lent, Caritas Australia has shared stories of people whose lives have been transformed thanks to Australians' support of the charity's annual Project Compassion campaign.
In Nepal, 16-year-old Laxmi lives in one of the country's most remote communities. After losing her father at a young age, she was vulnerable to falling further into extreme poverty. But thanks to the generosity and the support of Caritas Australia's partner Caritas Nepal, Laxmi joined a child's club, became a leader in her school and is now a mentor to other girls in her village.
In Vietnam, Thu is earning extra income and caring for his wife despite his disability. In Zimbabwe, women like Priscilla can now learn conservation farming skills to grow drought-resistant crops and support their families during the current drought.
And here in Australia, the Baabayn Aboriginal Corporation provides a welcoming environment for First Australian families and individuals to help them heal from the past and create a better future for their children.
Funds raised through Project Compassion enables Caritas Australia to continue its mission of helping lift vulnerable communities out of poverty. It can help communities around the world improve their access to food and clean water, support education and skills training, help families to increase their income and provide training in disaster risk reduction.
Details: www.caritas.org.au/project-compassion/
FULL STORY
Project Compassion – Week Five (Caritas Australia)