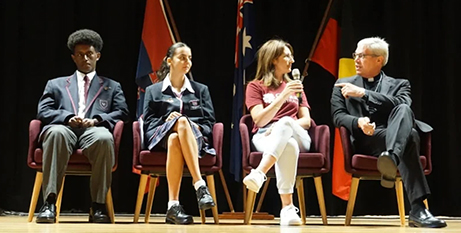 Sydney Auxiliary Bishop Richard Umbers has urged Catholic school students to reflect more deeply on the challenges faced by communities living in poverty overseas and consider practical ways to offer them ongoing help. Source: The Catholic Weekly.
Bishop Umbers travelled to Timor-Leste in January where he was a guest of Caritas Australia and saw the work the aid agency is doing to empower local communities in one of the poorest nations in the world.
From shelters for women fleeing domestic violence to sustainable agriculture programs and low-interest loans for local businesses, Bishop Umbers witnessed the tangible effect Caritas is having on lifting generations of people out of poverty in one of Australia's closest neighbours.
Bishop Umbers visited three Sydney Catholic schools during Lent to share his insights from the visit with students and staff, alongside Caritas' associate communications director Nicole Chehide.
The two explained how their contributions through Caritas' Project Compassion can make a real difference in the lives of the people of Timor-Leste.
At Casimir Catholic College in Marrickville, Bishop Umbers told senior students that through responding to the call to help those in greatest need, people can in turn draw closer to Christ.
"Jesus is asking us to be more and more like him and in as much as we strive to be Christ-like, we really discover what it is to be fully human, living in true relationship with others", he said.
"We are indeed very fortunate here in Sydney and that then makes us responsible to share what we have with others, seeking to live good lives and understanding who God is and emulating the love of God."
Bishop Umbers and Ms Chehide also spoke to students and staff at St Joan of Arc Primary in Haberfield and Galilee Primary in Bondi about the challenges facing Timor-Leste and how Caritas is responding to them.
FULL STORY
Caring for our neighbours in Lent and beyond (By Michael Kenny, The Catholic Weekly)