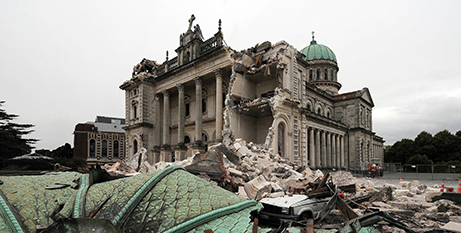 The Vatican's supreme court has stepped into Christchurch Diocese's contentious building program, swiftly halting plans that include a new cathedral in the central city. Source: Stuff.co.nz
In a move rarely, if ever, previously seen in New Zealand, the Supreme Tribunal of the Apostolic Signatura – the Vatican's highest court – has agreed to hear a legal case from a group of Catholic parishioners from the city who oppose the $NZ100 million ($93m) building plan.
The Apostolic Signatura is the Catholic Church's highest judicial authority behind the Pope and is composed of Pope-appointed cardinals, bishops and priests.
The diocese's post-earthquake plan for Christchurch was drawn up by the city's previous bishop, Bishop Paul Martin, but not all the faithful were on board.
The plan includes building a new $NZ40 million cathedral on a half-hectare site in the city, a new school at the other end of the block, with offices and a parking building to be built in between by a private developer.
Other aspects of the programme include merging suburban parishes and selling the excess land, as well as selling off the vacant site where the quake-damaged Cathedral of the Blessed Sacrament was demolished on Bishop Martin's orders in late 2020.
On Sunday, priests around the city read congregations a letter from Christchurch Bishop Michael Gielen outlining the Vatican's action. Mass-goers were told the letter was to be read only once and would not be repeated or published.
The case, to be heard by the Vatican in Rome, was written and signed by a small representative group of individual Catholics from city parishes. They are part of the 300-strong Gathering Group, comprising parishioners who have worked to challenge the diocese's plan under canon law.
One of those behind the case, Kathleen Gallagher, said the group wanted the focus to be on suburban churches and schools, where young people and other parishioners could be near their local Catholic centre.
A replacement cathedral did not need to be "enormously costly", she said.
FULL STORY
Vatican action halts Christchurch's Catholic cathedral building plan (Stuff.co.nz)