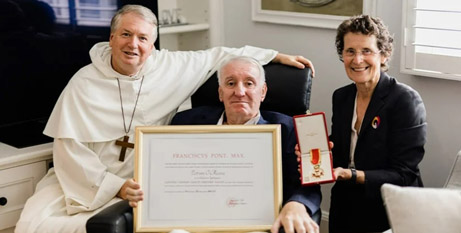 Recently retired chief executive officer of Catholic Cemeteries and Crematoria, Peter O'Meara, has been honoured with a papal knighthood recognising more than a decade of tireless advocacy, defending the Church's mission in ensuring everyone has a dignified faith-based funeral, burial and grief support. Source: Catholic Weekly.
Mr O'Meara has been made a Knight of St Gregory the Great in a moving ceremony led by Archbishop Anthony Fisher OP, who presented him with the honour after having personally nominated him to Pope Francis.
Mr O' Meara, who has recently been diagnosed with motor neurone disease, also received the sacrament of anointing of the sick from Archbishop Fisher at his Sydney home, surrounded by family, friends and work colleagues.
A long-time friend and colleague of Mr O'Meara, Catholic Cemeteries and Crematoria governor Danny Casey, said Mr O'Meara has been an inspirational advocate for the Church's mission in the cemetery sector, successfully fighting off a NSW government proposal in 2021 to hand the management of all cemeteries over to government.
Mr Casey said Mr O'Meara has left a great legacy which will benefit many generations of Sydneysiders and their families who wish to have a faith-based burial.
Over many years, Mr O'Meara has worked closely with Muslim and other faith community organisations to ensure that Catholic Cemeteries and Crematoria can offer dignified, low-cost burials for all which respect different faith traditions.
Mr O'Meara's successor as CEO of Catholic Cemeteries and Crematoria, Lauren Hardgrove, said Mr O'Meara has been a visionary leader with a strong personal Catholic faith which guided every decision he made.
FULL STORY
Cemeteries chief Peter O'Meara awarded Papal knighthood (By Michael Kenny, The Catholic Weekly)