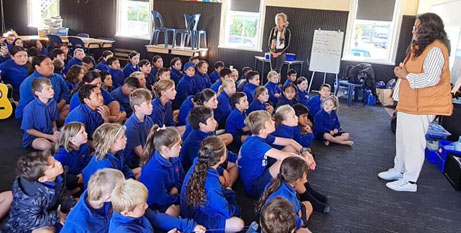 A small Catholic school in a cyclone-hit region of New Zealand has doubled its student population by opening its doors to accommodate the local state school students. Source: NZ Catholic.
More than 80 additional pupils are being accommodated by St Joseph's School in Wairoa in Northern Hawkes Bay as the region tries to recover after Cyclone Gabrielle.
St Joseph's, with a student population of 75, was approached by Nuhaka School, which is about 30km north of Wairoa, after the small settlement suffered loss of essential services, and wastewater and sewage systems were compromised, said Palmerston North diocese general manager Liam Greer.
"Nuhaka approached our school as they needed a solution, [and] the [Ministry of Education] were not keen to house the pupils in a 'non-school' facility," Mr Greer said.
St Joseph's principal Jo Doyle called Mr Greer and asked if the diocese would agree in principle, which it did.
Mr Greer said there are effectively two schools running in parallel on the St Joseph's site.
St Joseph's "had emptied or planned to empty classrooms for a building project which recently got building consent. Serendipitously this allowed the immediate accommodation required for the Nuhaka pupils, coupled with using the school hall and library and other rooms as/where required".
Mr Greer described the arrangement as essentially "a school inside a school". It is "business as usual" for St Joseph's.
The staff and students from Nuhaka School were welcomed in a powhiri on March 6. A Facebook post from Nuhaka School on March 8 expressed their gratitude.
"We experienced a heart-warming and very special powhiri, followed by the last three days of building new friendships and settling into our learning spaces," the post stated.
"Yesterday and today furniture arrived from our local schools and college to help fill up our little classrooms. Our beautiful tamariki and staff have been so warmly welcomed and supported by the team at St Joseph's and the support of our Wairoa community.
Mr Greer said that St Joseph's will continue to host Nuhaka School for this term "initially", and this will be "reviewed with the Ministry before commencement of new term".
FULL STORY
Wairoa Catholic school opens doors for cyclone-hit state school (By Michael Otto/NZ Catholic)