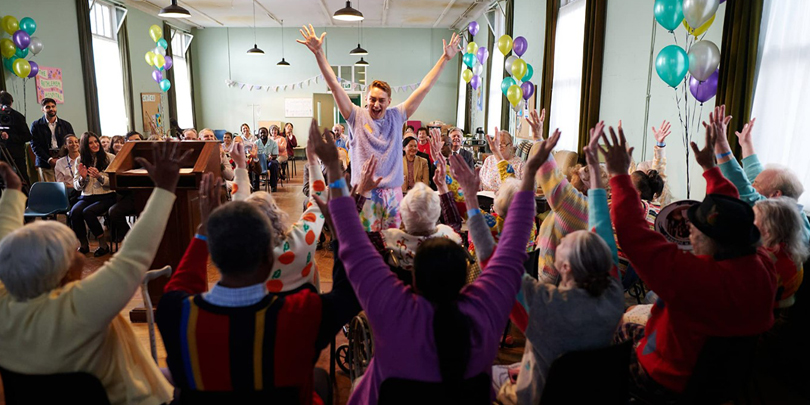 Allelujah is a British film based on the play of the same name by Alan Bennett and it boasts a Britbox cast of acting luminaries in an ensemble work of heart. Source: Jesuit Media.
In some ways, it is a cri de coeur for that very British institution – the NHS. However, what is apparent in the film, a drama-comedy, is how awkwardly these two genres sit together. The audience can laugh at the humour pulsing through the geriatric facility and shed tears over the poignancy of lives as they lose agency and no longer have families who can care for them.
In Yorkshire, the "Beth", a small 24-bed hospital held in great affection by locals, is under threat of closure. Bureaucrats in Westminster deem it too expensive for its size and not fulfilling its efficiency forecast. We meet the doctors and nurses whose expertise and kindness eases the latter stages of life for elderly who can no longer live independently or whose medical situation is grave. A film crew is on hand to record the daily life and interactions of these geriatric residents as they rehearse for a concert to honour their long-serving and loyal matron.
This film has pathos and humour and a great cast. It is uneven in its telling, but many of the scenes will strike a chord with viewers who may have had experiences with this sector. It is aimed a certain demographic and flag waves for the inestimable work that is done by all those who keep hospitals and aged care centres running – from the CEO to the volunteer ladies in the kiosk.
Humour softens some of the more adverse realities of this story with lines such as, "there is no cure for old age" and "even old people don't like old people". Finally, Allelujah is a gentle celebration of the kindness and expertise of those who care for the elderly, the reality that old age is not for the faint-hearted and that there is still a lot of colour, movement and reconnection to be enjoyed, even as life slows down.
Review by Anne Rennie.
Allelujah: Starring Jennifer Saunders, David Bradley, Russell Tovey, Bally Gill, Judi Dench, Derek Jacobi. Directed by Richard Eyre, 99 minutes. Rated M (Coarse language).
FULL REVIEW
Allelujah (Jesuit Media via Australian Catholics)