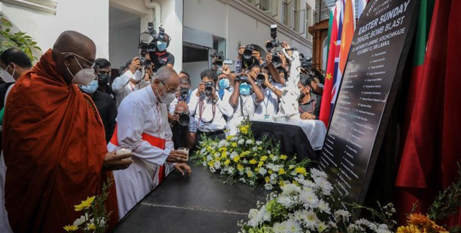 As Sri Lankan Christians mark four years since the Easter Sunday bombings which killed 261 people, the local Church continues to allege a cover-up and seek justice by calling for a UN-led international investigation. Source: Vatican News.
"We consider that finding justice and revealing the truth is a national service that we can do to our country, because we are a minority religion in Sri Lanka," said Fr Julian Patrick Perera, a secretary to the legal team of the Archdiocese of Colombo.
On April 21, 2019, terrorist bombers attacked two Catholic churches, an evangelical Christian church, and three luxury hotels, as well as a housing complex and a guest house. The eight suicide bombers, whom the government alleged were linked to the so-called Islamic State, killed 261 people in the coordinated attacks.
Cardinal Malcolm Ranjith, the Archbishop of Colombo, has questioned the Government's narrative of attacks and has consistently called for an international investigation.
In an interview with Vatican News to mark the fourth anniversary of the tragedy, Fr Perera lamented the lack of justice for the Easter Sunday bombings, saying there has been "no proper investigation completed on the whole issue".
He noted there appears to be evidence of a cover-up, pointing to the removal of several key investigators from the case.
"There is also a kind of an eyewash lawsuit that has been brought against about 25 members of the so-called terrorist movement. But those charges are very surface level," said Fr Perera, adding that law experts believe that a case consisting of 23,000 charges can never be credibly brought to trial.
However, noted Fr Perera, some progress was made in mid-January this year when Sri Lanka's Supreme Court issued a civil conviction of negligence against former president Maithripala Sirisena and four top security officials for failing to act on intelligence pointing to a possible terrorist attack in the run-up to the Easter Sunday bombings. They were also forced to pay 100 million rupees ($US273,000) in compensation to the families of the victims.
Meanwhile, Fr Perera recently presented the Sri Lankan Church's case at the 52nd United Nations Human Rights Council, held in Geneva from February 27 to April 4. He said Sri Lankan courts have delivered no criminal convictions for the masterminds of the attacks, and he called on the UN to invoke universal jurisdiction in the case to investigate the bombings.
FULL STORY
Sri Lankan Church still seeking justice for 2019 Easter Sunday bombings (By Devin Watkins, Vatican News)