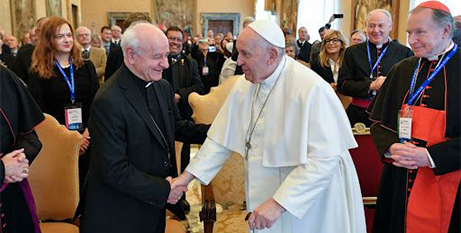 The Pontifical Academy for Life says its president is against assisted suicide but thinks it is possible to have a "legal initiative" that would allow it to be decriminalised in Italy under "specific and particular conditions". Source: CNA.
The academy issued a statement on Monday following an outcry over a speech in which Archbishop Vincenzo Paglia defended legalising medically assisted suicide in Italy. The archbishop called it a "feasible" approach to the issue in Italian society, despite the Catholic Church's clear teachings against it.
"Personally, I would not practice suicide assistance, but I understand that legal mediation may be the greatest common good concretely possible under the conditions we find ourselves in," Archbishop Paglia said in a speech on April 19 during the International Journalism Festival in Perugia.
The Italian news outlet Il Riformista published the text of Archbishop Paglia's speech on Saturday.
Monday's statement by the Vatican academy said Archbishop Paglia "reiterates his 'no' towards euthanasia and assisted suicide, in full adherence to the magisterium".
The academy added that the president's comments were about a ruling in the Italian Constitutional Court and "the specific Italian situation."
Archbishop Paglia gave his opinion, the statement said, that a "legal mediation" but "certainly not a moral one" is possible in order to keep assisted suicide a crime in some cases, while decriminalising it under certain conditions.
A bill to decriminalise assisted suicide, known in Italian legislation as "homicide of the consenting" passed the Chamber of Deputies, the lower house of Italy's Parliament, last year. It has not yet been passed by Italy's Senate.
FULL STORY
Pontifical Academy for Life responds to outcry over Archbishop Paglia assisted suicide comments (By Hannah Brockhaus, CNA)
RELATED COVERAGE
Head of papal academy sparks new row with euthanasia remarks (By Elise Ann Allen, Crux)
Archbishop Paglia clarifies stance on assisted suicide (Vatican News)