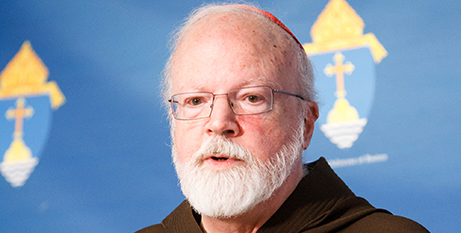 The heads of the Pontifical Commission for the Protection of Minors and a section of the Dicastery for Evangelisation have signed a memorandum of understanding aimed at improving assistance to abuse victims, local churches and bishops in mission countries. Source: CNS.
United States Cardinal Sean O'Malley, president of the commission, and Cardinal Luis Antonio Tagle, pro-prefect for "the first evangelisation and the new particular churches" section of the dicastery signed the agreement of collaboration at the Vatican on Friday.
The enhanced collaboration will include sharing resources, information and formation and "promoting concrete structural change to build a culture of safeguarding," according to Vatican News.
Cardinal O'Malley, who spent many years as "a missionary bishop" when he ministered in the US Virgin Islands, said he understood what it was like to run a diocese with very limited resources.
The commission, he said, hopes to work with the dioceses that are under the dicastery's purview and "help them to be able to develop programs, to be able to receive victims" in ways that also offer needed pastoral outreach and care, not just the correct "juridical practices," and to help them in safeguarding and prevention so that "our churches and schools and communities will be safe places for children and young people."
The Dicastery for Evangelisation has contact with so many dioceses, he said. "I think half of the ecclesiastical jurisdictions in the world come under the pastoral care of this dicastery."
And the dicastery has "a very broad mandate" that includes overseeing seminaries and religious men and women, "so we would help them with that" and many other things, he said.
FULL STORY
Papal abuse commission signs agreement with Vatican's evangelisation office (By Carol Glatz, CNS via NCR Online)