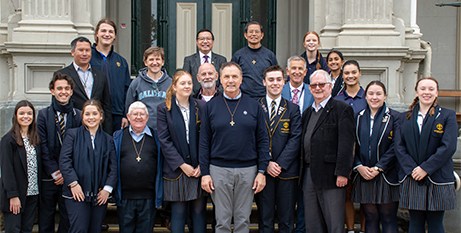 The international head of the Salesians of Don Bosco has wrapped up an eight-day trip to Australia with a visit to Salesian College in Sunbury, Victoria, which is home to the motherhouse of the order in Australia.
Rector-Major Don Ángel Fernández Artime is the 10th successor to the founder of the Salesians, Don Bosco. His visit to Australia coincided with the centenary of Salesian presence in the country.
Places the Rector-Major visited during his trip include the tomb of St Mary MacKillop in North Sydney, Salesian Boys' Town in Engadine, New South Wales, and Salesian houses and schools in Melbourne.
On his final day at Salesian College in Sunbury, Don Ángel was welcomed to the college grounds during a full school assembly. In his speech to the students, he stressed the importance of dreams to young people, and passionately encouraged them to always follow their dreams as a path to happiness.
After the assembly, the Rector-Major made his way to the cemetery, which is the final resting place for many Salesians who have dedicated their lives to the Australia-Pacific province. To commemorate the Rector-Major's visit and the centenary of Salesian ministry in Australia, Don Ángel planted a tree near the cemetery gates and buried an accompanying time capsule, to be opened at the next centenary.
Don Ángel made a final stop at the Salesian residence to visit the community and bless the benefactor's monument dedicated to all those who have supported the works of the Salesians in the Australia-Pacific province since its inception in 1923.
FULL STORY
Rector Major Don Ángel Fernández Artime's Australian visit concludes (Salesians of Don Bosco)
Rector Major's Visit to Province of Australia-Pacific (Salesian Bulletin)