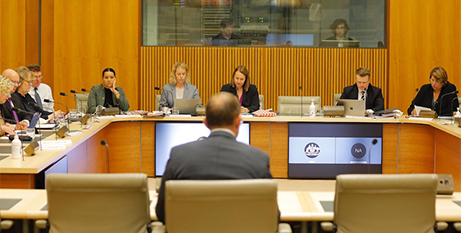 Former prime minister Tony Abbott, Indigenous leader Noel Pearson and Fr Frank Brennan SJ were among those to appear yesterday before the parliamentary inquiry into Labor's referendum proposal on an Indigenous Voice to Parliament. Source: ABC News.
Mr Abbott offered a staunch criticism of a proposed constitutionally enshrined Voice to Parliament. He supported recognising Aboriginal and Torres Strait Islander people as the first Australians, but not the Voice.
"I think it's important that we achieve Indigenous recognition, but this is so much more than recognition. This is about government," he told the committee.
"I don't want to change the way we're governed. I just want to acknowledge the fact that Indigenous people were here first and should be respected as the first Australians."
Fr Brennan, a law professor who supports the Voice and would vote for it in its current form, said changing the language of the amendment from allowing the Voice to make representations to "executive government" to "ministers of the state" could broaden support for the referendum among Coalition politicians.
"I think what is necessary is … get the formula of words as good as possible … with the hope that it might attract on board some of the key Liberals," he told the committee.
Fr Brennan said he had hoped the referendum would go further and properly acknowledge Australia's Indigenous history in the constitution.
Mr Pearson, a "Yes" campaigner who has previously accused Opposition Leader Peter Dutton of "preparing the grave" to bury the Uluru Statement from the Heart, said he looked forward to the referendum, dubbing it a "good thing" for Australia and the democracy.
"What the Voice does is improve [the constitution] by giving a voice to the most marginalised in our country," he said.
FULL STORY
Tony Abbott hits out at proposed Voice to Parliament, attracting a rebuke from Noel Pearson (ABC News)