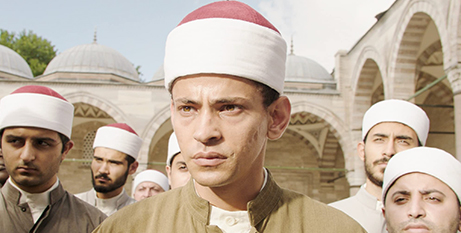 Cairo Conspiracy is a dramatic story about the struggle for power and influence between the religious and political elite of Egypt. Source: Australian Catholics.
Also known as Boy From Heaven, the film has Arabic dialogue and is subtitled in English.
The film tells of the life of Adam (Tawfeek Barhom), the son of a fisherman, who was raised in a remote Egyptian province. Adam receives the news that he has won a scholarship to Al-Azhar University – the preeminent institution of learning in Sunni Islam – to study Islamic thinking. Soon after Adam's arrival at the university in Cairo, the Grand Imam of Al-Azhar dies. Adam, a devout religious student, is caught in the vicious power struggle to replace the Grand Imam.
Colonel Ibrahim (Fares Fares) is an intelligence officer, and he is ordered by his military superiors to take control of the election of the Grand Imam. He forces Adam to act as an informant to help him recruit a suitable person. One of the candidates for the position of Grand Imam is a cleric being groomed by the Muslim Brotherhood, a known terrorist organisation.
Adam soon recognises that he has become a pawn in a fierce political struggle, and he is desperate to survive. Colonel Ibrahim knows the brutal tactics of the military, and the frightening activities that it will condone in order to stay in power, and he and Adam become the focal characters in the dramatic events that unfold.
As Muslims await their new leader, the film brilliantly explores power politics in organised religion, where personal ambition can have far-reaching, and fatal, consequences.
The film demonstrates the tensions that can erupt when religion and politics combine, and the deadly battles that can occur as a consequence.
It provides an engrossing and totally absorbing exploration of the deceit and hypocrisy that often characterise power-hungry institutions and positions of significant authority. The film is intended to "warn" and is pertinent to any culture, especially when corruption rears its ugly head. Cairo Conspiracy is a compelling "must-see" political thriller.
Review by Peter W Sheehan, Jesuit Media .
Cairo Conspiracy: Starring Tawfeek Barhom and Fares Fares. Also, Mohammad Bakri, Makram Khoury and Mehdi Dehbi. Directed by Tarik Saleh. Rated M (Mature themes and violence). 121 min.
FULL REVIEW
Cairo Conspiracy (Jesuit Media via Australian Catholics)