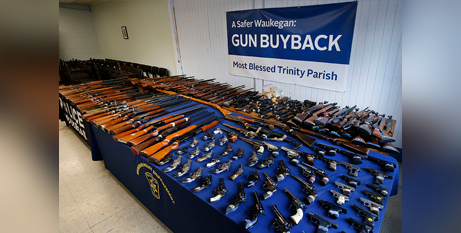 In an attempt to prevent gun violence and "build a culture of peace", a large Catholic parish in the Chicago Archdiocese collected 166 guns at a drive-through gun buyback event. Source: NCR Online.
Most Blessed Trinity Parish volunteered to work with the police department of Waukegan, Illinois, to host the April 29 event after the Chicago Archdiocese decided it was important to host a gun buyback in Lake County.
"We, in the Archdiocese of Chicago, know all too well how guns can ravage our communities, whether the daily violence plaguing city neighbourhoods or the still-healing scars of last July's mass shooting in Highland Park," said Cardinal Blase Cupich in a statement about the event.
On July 4, 2022, a gunman killed seven people and injured dozens of others at a holiday parade in Highland Park in Lake County.
"Rather than allow ourselves to despair in the face of this mounting death toll, we must do as Pope Francis has asked and continue the work of eliminating gun violence by building a culture of peace," said Cardinal Cupich, who announced that he and Auxiliary Bishop Jeffrey Grob would be donating to the buyback's funds from their personal resources.
To participate in the buyback, participants pulled up in their cars and had their weapon inspected by police. Officers determined whether the weapon was functioning or not and then the participant drove to another station to receive $US100 ($147) in cash for a functioning weapon or $US25 for a non-functioning weapon.
The police department announced that after the event all the guns would be destroyed.
FULL STORY
Chicago Archdiocese gun buyback should spur more nonviolence action, experts say (By Aleja Hertzler-McCain, NCR Online)