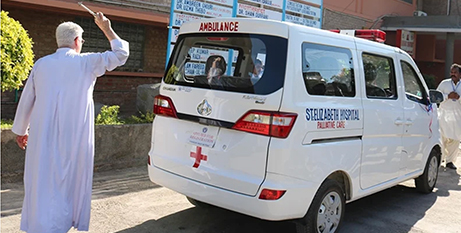 In a new partnership, Catholic Mission Australia is working with the Columban Mission Society to strengthen the Catholic healthcare system in Pakistan, helping to promote interfaith relations in the majority Muslim nation. Source: The Catholic Weekly.
Catholic Mission Australia's national director Fr Brian Lucas says public donations have been directed towards supporting the expansion of St Elizabeth Hospital in the city of Hyderabad.
New developments will include an expanded midwifery school at the hospital to offer undergraduate degrees and a dedicated operating theatre to cater for the growing demand for orthopaedic surgery in Pakistan.
"We hope this support can help continue to give real witness to the healing ministry of Jesus while also empowering people locally, giving them a sense of their own worth and their own dignity, to give them the opportunity and the capacity in the context of their own community, to find solutions to their own unique circumstances," Fr Lucas said.
The chair of the board of the 80-bed St Elizabeth Hospital, Columban priest Fr Robert McCulloch, spent about 35 years in missionary work in Pakistan and now works in the Columban Missionary Society's headquarters in Rome.
He said St Elizabeth Hospital had providing quality healthcare to all Pakistanis since the 1950s and has helped to nurture trust and understanding between the country's Muslim, Christian and Hindu communities.
"It's a genuine example of interfaith harmony in action, as not only our patients but our doctors, too, are mainly Muslims and Hindus who work closely with Christians," Fr McCulloch said.
"We have in a sense become a role model, which we are now encouraging the Catholic dioceses across Pakistan to embrace in the provision of hospital care."
FULLS TORY
Healthcare mission promoting interfaith ties in Pakistan (The Catholic Weekly)