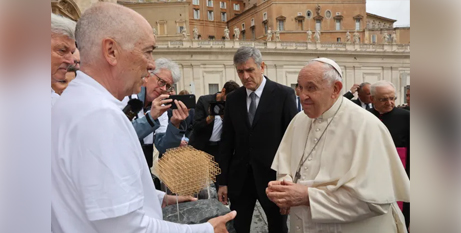 Pope Francis yesterday met briefly with a group of abuse survivors who undertook a bicycle pilgrimage from Germany to Rome to ask him to do everything in his power to heal and prevent abuses in the Church. Source: CNA.
The group, from the Munich and Freising Archdiocese, also delivered a letter to the Holy Father following his weekly general audience and presented him a gift: a sculpture of a heart by artist Michael Pendry.
"The work does not show a usual, romantic heart," the group explained in its letter to the Pope. "The heart has many open parts, allows introspection, it is angular and wounded. We as people who have been abused can easily find ourselves in this depiction. It is also so in our inner selves, in the centre of our being, in the centre of our heart!"
The 15 abuse survivors arrived in Rome after setting off on May 6 from Munich, in southern Germany.
They made several stops along their journey, including in Bolzano, in northern Italy, on May 8, where they were greeted by Bishop Ivo Muser of the Bolzano-Bressanone Diocese, and by Cardinal Reinhard Marx, the Archbishop of Munich and Freising.
The authors of the letter said they were all, as children or young people, the victims of sexual abuse at the hands of priests or male or female religious.
"The message of the Gospel has been perverted by the perpetrators of the crimes. The victims still suffer the consequences today and their lives are still affected and limited in different ways and intensities," the victims said.
"What they have in common is the wounded heart, the great wound of life that hurts day after day," they added, noting that every time there is a new report of abuse in the Church, or of cover-up and failure by her leaders, "scars reopen and wounds begin to bleed again".
FULL STORY
Abuse victims share 'wounded heart' with Pope Francis after bike trek from Germany (By Hannah Brockhaus, CNA)