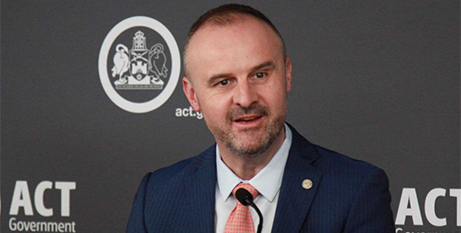 Andrew Barr's takeover of Canberra's Calvary Public Hospital Bruce will create a dangerous precedent and pave the way for government intervention in other faith-based community services, according to new warnings from religious leaders and Catholic educators. Source: The Australian.
The ACT chief minister's decision last week to introduce legislation allowing the takeover of Calvary Hospital in Bruce has sparked outrage among faith communities and MPs, including federal Opposition Leader Peter Dutton.
Member for the ACT seat of Bean, David Smith, yesterday became the first Albanese Government MP to criticise the move, which he said had been made without sufficient consultation. He said while he was "sympathetic" to the Barr Government wanting to run the site and invest $1 billion in an upgrade, it had not gone about it the right way and had angered members of the community.
National Catholic Education Commission executive director Jacinta Collins raised alarm over the move, which she said undermined the "pluralism" that should exist in community services and brought into question whether the Government would intervene in other sectors.
"I am concerned at the ACT Government's apparent unwillingness to support long-established and highly regarded pluralism in community service delivery and any implications this might have in the future for faith-based schools," she said.
"Where people have access to a range of public services, faith-based agencies should be free to live and let live."
Freedom of Faith chair and Anglican Bishop of South Sydney Michael Stead said he was also worried the ACT Government might take over other religious institutions should it choose to.
Former vicar-general of the Canberra-Goulburn archdiocese Fr Tony Percy urged Prime Minister Anthony Albanese to intervene directly in the matter.
FULL STORY
Faith leaders condemn ACT Calvary Hospital grab (By Sarah Ison, The Australian)
RELATED COVERAGE
'We have a petition going': Community protests Canberra Calvary hospital takeover (Sky News Australia)