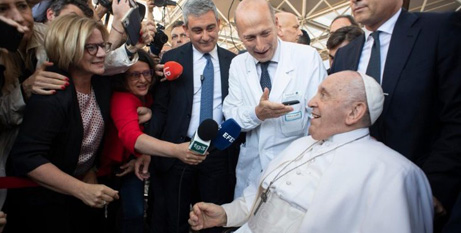 Pope Francis was released from Gemelli Hospital on Friday following his June 7 abdominal surgery and has returned to the Vatican, with his surgeon saying the Pope is even better than before. Source: Vatican News.
Responding to journalists' questions about how he is, the Pope said "I am still alive", and expressed his sorrow for the tragic deaths of dozens of migrants off the coast of Greece.
During his stay, the Holy Father thanked all the medical personnel for their professionalism and their efforts "to alleviate the suffering of others, not only with medication, but also with tenderness and humanity".
The Agostino Gemelli University Policlinic, the largest hospital in Rome, is the teaching hospital for the Catholic University's medical school.
Following the Pope's departure from the hospital, he maintained his tradition of making a detour to the Basilica of Santa Maria Maggiore to pause in prayer before the icon of the Blessed Mother, Salus Populi Romani.
Due to the surgery and subsequent recovery, the Pope's audiences were suspended until Sunday, June 18.
The Pope's June 21 General Audience "has been cancelled to safeguard the Holy Father's post-operative recovery", the Vatican announced.
Pope Francis has apostolic journeys to Portugal in August for World Youth Day and to Mongolia, from August 31 to September 4, on his agenda.
FULL STORY
Pope Francis returns to Vatican after discharge from hospital (Vatican News)