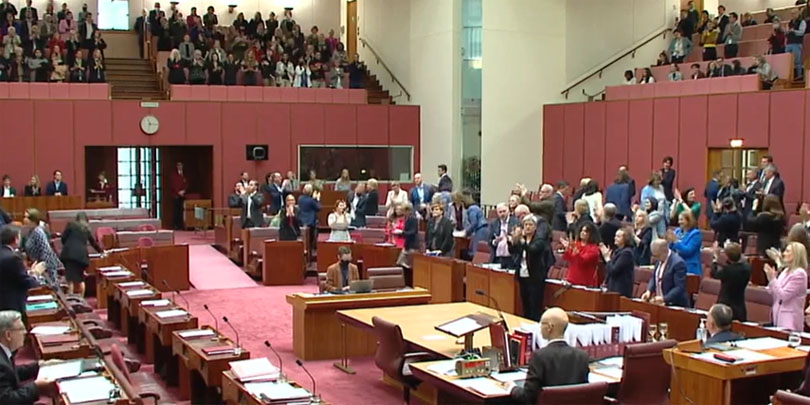 Australians will vote on the Indigenous Voice to Parliament within the next six months, after the bill to trigger the referendum passed the Senate 52 votes to 19. Source: SBS News.
Parliament formally jumped its final hurdle ahead of the referendum on Monday, with Australians now set to decide whether to enshrine the Voice – a key pillar of the 2017 Uluru Statement from the Heart – in the Constitution.
Minister for Indigenous Australians Linda Burney said the development brought Australia "one step closer" to acknowledging Indigenous Australians in the Constitution and making a "great country even greater".
"It's on," she said. "Today, the political debate ends. Today, we can start a national conversation at the community level.
"For too long, Indigenous Australians have been consistently worse off than non-Indigenous Australians … It's a broken system. And the Voice is our best chance of fixing it, because when we listen to people on the ground and consult with locals, they make better decisions and achieve better outcomes."
Labor has stressed the Voice would be a purely advisory body, giving Indigenous Australians the opportunity to advise Parliament and government on issues that particularly impact them.
Some of its critics claim the proposal is fraught with risk, while others argue it gives insufficient power to Indigenous people.
The first referendum in nearly 25 years will take place sometime between two and six months from Monday.
FULL STORY
'It's on': Senate vote triggers Voice referendum within the next six months (By Finn McHugh and Biwa Kwan, SBS News)
RELATED COVERAGE
Senate passes referendum plan, cementing Voice to Parliament vote before end of the year (ABC News)
Historic Indigenous voice referendum bill passes parliament ahead of public vote (The Guardian)
'Make history': Anthony Albanese's referendum rally cry after Bill passes parliament (news.com.au)