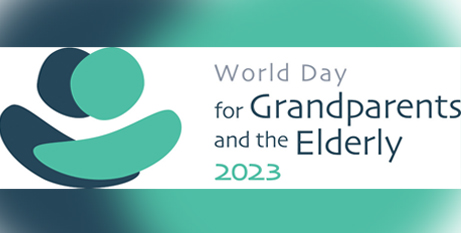 The Vatican will again offer a plenary indulgence to mark the third World Day for Grandparents and the Elderly on July 23. Source: CNA.
The indulgence can be received by grandparents, the elderly, and all Catholics who, "motivated by the true spirit of penance and charity", participate in Pope Francis' July 23 Mass in St Peter's Basilica, another Grandparents' Day celebration or who visit the elderly, the Vatican said.
Chosen by Pope Francis, the theme of Grandparents' Day 2023 comes from a verse in the Gospel of Luke: "His mercy is from age to age."
It will be marked on July 23, the Sunday before the Feast of Sts Anne and Joachim, the grandparents of Jesus.
An indulgence is defined by the Catechism of the Catholic Church as "a remission before God of the temporal punishment due to sins whose guilt has already been forgiven".
The usual conditions for a plenary indulgence require the individual to be in a state of grace, have complete detachment from sin, and pray for the Pope's intentions. The person must also sacramentally confess their sins and receive Communion, up to about 20 days before or after the prayers for the indulgence.
The July 5 decree stipulated that one way to receive the plenary indulgence for Grandparents' Day is by dedicating time on July 23 to visiting the elderly, particularly those who are sick, disabled, or abandoned. A phone or video call can also count, the Vatican said.
Another way is to attend Pope Francis' Grandparents' Day Mass at the Vatican or another Grandparents' Day Mass.
Those who would like to participate in the indulgence but are unable to leave their homes due to sickness, age, or another serious reason, the decree said, can unite themselves spiritually to the celebrations of the day through "offering to the Merciful God their prayers, pain, and the suffering of their lives" while watching the pope's Mass or another celebration on TV or online.
FULL STORY
Vatican offers plenary indulgence for third annual Grandparents' Day this month (By Hannah Brockhaus, CNA)