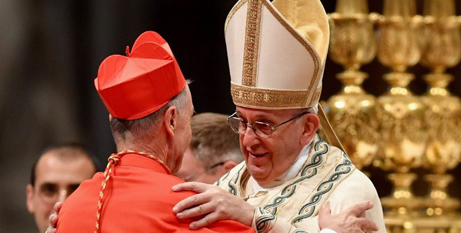 Pope Francis announced yesterday that he will hold a consistory for the creation of 21 new cardinals at the end of September. Source: Crux.
Francis announced the names during his Sunday Angelus address, saying the consistory will be held September 30 and that the provenance of the new cardinals "expresses the universality of the church".
Among those on the list are American Archbishop Robert Prevost, the new prefect of the Vatican's Dicastery for Bishops, and French Archbishop Christophe Pierre, who since 2016 has served as the Vatican envoy to the United States.
Other names of note on the list, which sticks with Francis's knack for naming cardinals from all over the world who hold various titles and positions, include several key papal allies.
Among them are Italian Archbishop Claudio Gugerotti, prefect of the Vatican's Dicastery for Eastern Churches; Archbishop Víctor Manuel Fernández, who just days ago was named as the new head of the Vatican's Dicastery for the Doctrine of the Faith; Jesuit Bishop Stephen Chow of Hong Kong; and Jesuit Archbishop Ángel Sixto Rossi of Córdoba, Argentina.
The list also includes prelates from Italy, South Africa, Colombia, Malaysia, Tanzania, and South Sudan, where he visited earlier this year in a bid to promote peace in the war-torn nation.
The list includes 18 cardinal electors and three non-electors, meaning they are above the age of 80 and therefore not eligible to the conclave to elect the next pope.
With the new names announced by Pope Francis, the number of cardinal electors stands at 137. As of September 30, Francis will have named just under three-quarters of the cardinals who will elect his successor.
FULL STORY
Pope names 21 new cardinals, including an American and his envoy to the US (By Elise Ann Allen, Crux)
RELATED COVERAGE
Pope Francis announces Consistory for creation of new Cardinals (Vatican News)
Pope at Angelus: Only the little ones know how to welcome God's love (Vatican News)