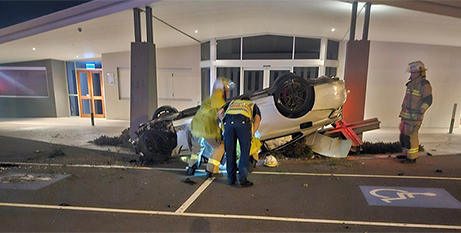 Brisbane priest Fr Enoch Iheme heard a "very loud" sound from Our Lady of Lourdes Church in Sunnybank and ran from the presbytery to find a car sitting on its roof in the parish car park on Sunday. Source: The Catholic Leader. 
Beneath the car was the church's exterior cross, which stood near the entrance of the church.
Fr Iheme was among the first people to arrive on the scene and he quickly dialled emergency services.
"Both services came immediately, within two minutes they were there, which was a quick response," he said.
Footage captured on a dashcam showed a car losing control and sliding through the parish grounds. Fr Iheme said he was astonished that the people in the crash only had scratches on them.
"I was just shocked," he said.
He said he was "grateful to God" no one was killed and that no bystanders were caught in the way of the crash. He said the car damaged a Telstra phone booth at the front of the parish, the front fence, garden and the cross.
"The next day parishioners, wonderful volunteers, gathered around and cleared the church (of debris) ready for Mass the next day," he said.
He said the parishioners freely responded to the need, showing their love for their church.
"People in the community see this place as a home," he said.
FULL STORY
Out-of-control car crashes through Sunnybank church car park, stopped by cross (By Joe Higgins, The Catholic Leader)