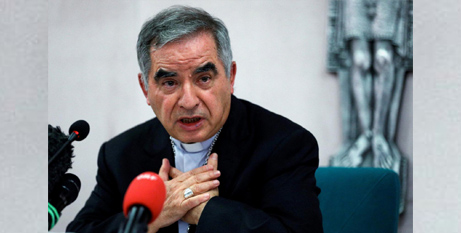 The Vatican prosecutor insists his indictments of 10 people, including a cardinal, for alleged financial crimes held up under two years of testimony, criticism and defence motions, as he began closing arguments in a trial that exposed the unseemly financial underbelly of the Holy See. Source: AP.
Prosecutor Alessandro Diddi opened two weeks of hearings to summarise his case by accusing officials in the Vatican secretariat of state of committing "grave violations" of internal norms and canon law when they decided in 2012 to start investing the Pope's money in "highly speculative" investments, including in a 350 million euro ($A578 million) London real estate venture.
The sprawling Vatican trial originated in the London deal but grew to include two other tangents implicating Cardinal Angelo Becciu: One involved allegations he donated some 125,000 euros ($206,000) in Vatican money to a Sardinian charity run by his brother; the other involved allegations he used some 575,000 euros ($950,000) in Vatican funds to double pay ransom fees to help free a nun held hostage by al-Qaida-linked militants in Mali.
The ransom payments, in particular, exposed inner financial and diplomatic workings of the Vatican that were never supposed to come to light.
Together with evidence that Vatican monsignors brought in foreign intelligence agents to debug their offices and cardinals secretly recorded Pope Francis, the trial has served as an eye-opening reality check of life in the world's tiniest country that is headquarters to the 1.3-billion strong Church.
All 10 defendants denied wrongdoing.
Mr Diddi has five more hearings, this week and next, to summarise his case. The court then takes a recess until the end of September, at which point the defence and civil parties present their closing arguments. Judge Giuseppe Pignatone has said he expects a verdict before the end of the year.
FULL STORY
Prosecutor cites risky investments as 'grave' violations, in closing of Vatican financial case (By Nicole Winfield, AP)