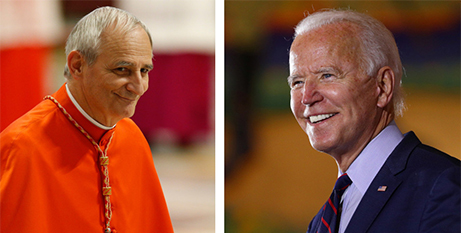 The top priority for Pope Francis' peace envoy in his meeting with President Joe Biden was the repatriation of children forcibly deported from Ukraine to Russia, the papal nuncio to the US said. Source: NCR Online.
The overall objective of the meeting yesterday between Cardinal Matteo Zuppi, the Pope's special envoy, and Mr Biden was "to contribute to peace and more precisely to cover the humanitarian aspects, in particular concerning children. The discussion revolved around this," Cardinal-designate Christophe Pierre, apostolic nuncio to the US, told the Italian daily, La Repubblica.
When asked if this meant that the immediate goal was facilitating the reunification of Ukrainian children with their families, the Cardinal-designate said, "Yes, that is the Cardinal's, and obviously the Pope's, more specific goal, also because it is a more concrete issue."
"Obviously, however, the idea is to think about peace, in the complicated context that exists," he said in the interview, published in Italian yesterday.
"The Cardinal is very realistic, we try to do what is possible," Cardinal-designate Pierre said.
In general, Cardinal Zuppi's mission was "to listen and be listened to. To report on what has already happened in order to see how one can proceed," the papal nuncio said.
"This is a first step. We are realists, we know perfectly well that this is not easy. But the Pope wants to contribute to (bringing) attention to a situation that will in any case have to reach an outcome," he said.
Meanwhile, the White House said in a statement that Mr Biden and Cardinal Zuppi "discussed the Holy See's efforts providing humanitarian aid to address the widespread suffering caused by Russia's continuing aggression in Ukraine, as well as the Vatican's advocacy for the return of forcibly deported Ukrainian children," the White House statement said.
FULL STORY
Repatriating Ukrainian children topped papal envoy's agenda with Biden (By Carol Glatz, CNS via NCR Online)