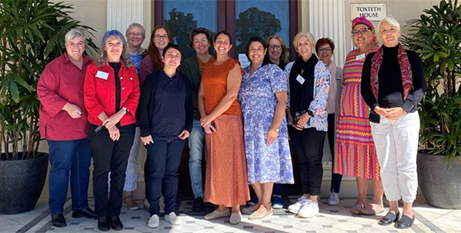 Applications have opened for the Sisters of the Good Samaritan's Study and Mentoring Program, which offers financial assistance for women undertaking tertiary studies at a recognised theological institution. Source: The Good Oil.
Now in its fourth year, the program offers opportunities for spiritual direction, mentoring and dialogue with like-minded women.
The program is open to Catholic women aged over 30 who reside in Australia, Kiribati, the Philippines and Japan – countries where the Sisters of the Good Samaritan live and minister. Applicants must have an interest in the academic, spiritual and mentoring components of the program.
Financial assistance will be offered to a maximum of $8000 per year. The grant can be spent on tuition or other expenses associated with the completion of the qualification.
Jaren Malales, a previous participant, said the program had helped her "financially, mentally, and spiritually".
"It has formed me to be a better person, mature in faith, thanks to the mentoring component and the spiritual direction," Ms Malales said.
Mandy Hayward, another former program member, said she was attracted to the program's spiritual direction.
"Having mentorship to be able to sound out ideas and talk through success and frustrations is invaluable. There's no other opportunity to gain something so valuable within the Catholic Church community."
For details on the program, visit the Good Samaritan website or email [email protected]. Applications close on September 6.
FULL STORY
Applications invited for women's Study and Mentoring Program (The Good Oil)