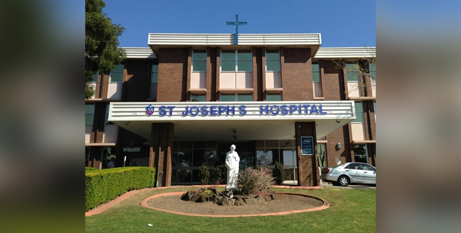 St Vincent's Health Australia says an "extremely difficult" decision to close St Joseph's Hospital in western Sydney came after years of trying to secure a viable future for the historic site. Source: The Catholic Weekly.
The Sisters of Charity established the hospital in 1886, in Parramatta, for the treatment of consumption patients and today it is a 39-bed facility in Auburn providing in-patient and out-patient services in palliative care, rehabilitation, mental health and specialist care for Huntington Disease and MS patients.
Staff were informed of the decision to decommission the hospital in early July and the hospital is scheduled to close on September 18.
A number of friends of the hospital, including a staff member who did not want to be identified, voiced their anger and disappointment at a lack of consultation about the impending closure with staff, under-investment in the hospital over the past decade and concerns for the patients.
But St Vincent's says that the hospital's ageing buildings and infrastructure are no longer fit for purpose and it cannot afford the capital investment required for an upgrade.
"Despite our best efforts over the past 10 years, we have not been able to secure the necessary funding to address the deteriorating infrastructure," St Vincent's said in a statement.
"Another challenge has been that owing to the hospital's relatively small size, it has become difficult to operate as a stand-alone hospital in a viable way, despite the extraordinary work of our staff."
It added that there was no decision yet on what they will do with the site but that there will be no loss of health services to the people of NSW or Western Sydney.
"St Vincent's has promised not to close the hospital until it secures transfers of services to care for existing patients, with Western Sydney LHD has agreed to take on all the existing activity of St Joseph's—which will mean a smooth transition of care for all our patients, including our MND, Huntington's, Palliative Care and Mental Health patients—whose care is very specialised."
FULL STORY
Sad closure of St Joseph's Hospital will not leave palliative care worse off, experts say (By Marilyn Rodrigues, The Catholic Weekly)