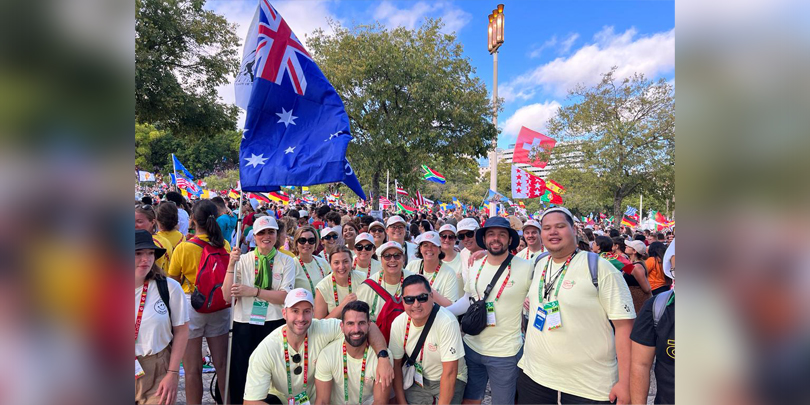 I can honestly say the experience of World Youth Day Sydney in 2008 changed the course of my life, writes Monica Doumit. Source: The Catholic Weekly.
As my social media feed is filled with images of friends and colleagues joining thousands of other Aussies on the pilgrimage to World Youth Day in Lisbon, Portugal. I can't help but want to jump on a plane and join them. There is just something so wonderful about WYD that makes me want to be a part of it.
Fifteen years after Sydney hosted WYD, I can honestly say that the experience changed the course of my life: not the week itself, but the encounter with God and His people in the years leading up to that historic week was a defining period for me.
The people I met during the preparations for WYD are among my closest friends, confidants and collaborators – people who I look up to and lean on when I need my own faith to be renewed and whose lives continue to witness to the joy that comes from going "all in" for God.
As I get older and become more deeply embedded in the Church, I have come to appreciate more acutely the wisdom behind WYD. I always thought the main reason St John Paul II instituted WYD was to show young Catholics that they weren't alone in a world that is increasingly irreligious and anti-Christian.
But I think the real genius of WYD comes from its ability to bring together the young people that will be future leaders in the Church, ordained and lay, and give them a large group of brothers and sisters in Christ that will be there for them in the years ahead.
I know I would not be able to do my role if it wasn't for the friendship, support and prayers of those I met on the three WYDs I attended. I know of so many others serving in so many ways who are accompanied in their ministries by their WYD family.
And I firmly believe that God, in his divine wisdom, did not bring us together for WYD itself, but because he knew that we would need each other in the crazy times the Church is facing now and will continue to face in the future.
Monica Doumit is director of public affairs and engagement for the Sydney Archdiocese.
FULL STORY
Monica Doumit: World Youth Day brings the church's future leaders together (By Monica Doumit, The Catholic Weekly)