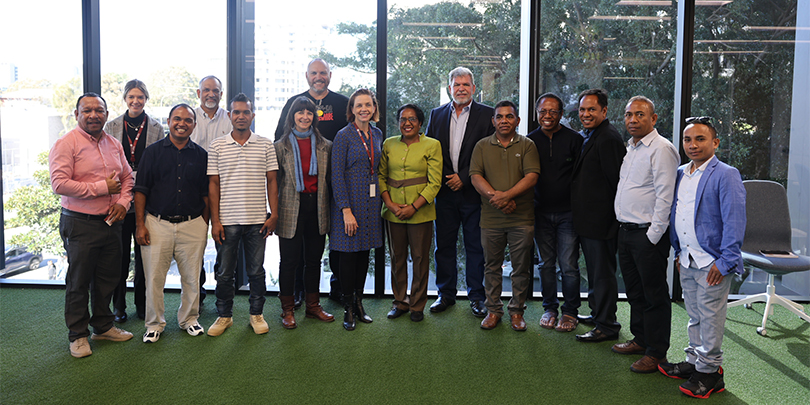 Caritas Australia welcomed a delegation of Church and government representatives from Timor-Leste to Sydney yesterday.
The delegation is visiting Australia on a cross-cultural visit as part of the Department of Foreign Affairs and Trade and World Wildlife Fund project called Transforming Rural Lives through Adaptation and Carbon Capture (TRACC).
Managed by Caritas Australia, the TRACC project uses nature-based solutions to reduce deforestation and promote agroforestry, at the individual, community, and government level to protect and restore critical ecosystems and build community resilience.
The project aims to empower local communities to protect and rehabilitate forest ecosystems.
Representatives from implementing partners, the Aboriginal Carbon Foundation and Catholic Relief Services, were joined by Caritas Australia CEO Kirsty Roberston and staff.
"It is through our fraternal cooperation that we, as brothers and sisters, journey together sharing our knowledge and learning from each other with our ultimate destination to serve the most vulnerable and our earth," Ms Robertson told the delegation.
"The expertise and experience gathered in this room should give us all confidence in the ongoing success of this project and serve as an outstanding example for future endeavours."
The group has travelled from far north Queensland, where it met with traditional owners and spent time on country, to Canberra, where it met with government organisations, the carbon industry and clean energy regulators to share knowledge and explore opportunities.
FULL STORY
(Caritas Australia)