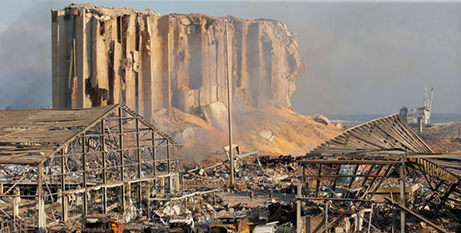 There is still no accountability or justice for the August 4, 2020, port explosion in Beirut, Lebanon, with the investigation obstructed by legal and political wrangling. Source: OSV News.
Caused by the detonation of a stockpile of ammonium nitrate improperly stored at the port for years, the disaster is considered one of the biggest non-nuclear explosions in global history.
During a commemorative Mass on the eve of the blast anniversary, Cardinal Bechara Rai, patriarch of the Maronite Catholic Church, said he joined those "who cry until today for their loved ones and cry out for truth and justice".
The Mass at St George Maronite Cathedral in Beirut was attended by family members of the blast victims, the injured and those whose homes and livelihoods had been destroyed. Many family members, dressed in black, held photos of their deceased loved ones.
In his homily, Cardinal Rai assured all with the gospel passage: "There is nothing concealed that will not be revealed, nor secret that will not be known" (Lk 12:2).
The head of the Maronite church cited the ravages of the tragedy: 235 dead; about 5000 wounded and handicapped, and thousands of homes, churches, places of worship, institutions and shops destroyed, with half of the capital affected. With disintegrated state institutions, however, even the final death toll remains disputed, with some victims unrecognised officially.
"Faced with such a catastrophe, it is unacceptable to remain silent," Cardinal Rai said, adding that "what hurts these families and hurts us the most is the indifference of state officials who are preoccupied with their cheap interests."
The Lebanese cardinal denounced "political figures who pretend to be innocent while evading appearing before the investigative judge".
Cardinal Rai called on world powers to hand Lebanon the information and satellite images they have to facilitate the truth of the blast and to "put an end to the political interferences" in the investigations.
FULL STORY
Beirut port blast anniversary: Calls for truth and justice (By Doreen Abi Raad, OSV News)