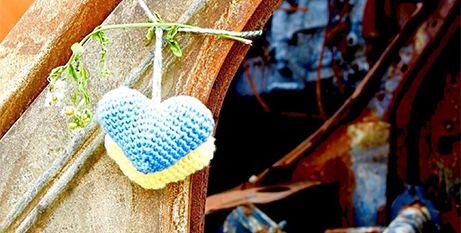 A delegation of Australian bishops, priests and laity has visited war-engulfed Ukraine in an extension of pastoral fraternity and humanitarian solidarity, writes Annie Carrett. Source: Melbourne Catholic.
The four-day encounter, from August 8 to 11, was to listen to and witness first-hand the experiences of the people, and to see where the Church in Australia's own support might have the greatest impact.
It is no light exercise to visit a country at war. Enormous assistance was provided by the Ukrainian Greek Catholic Church, particularly through Bishop Stepan Sus, based in Lviv, Bishop Andriy Khimyak of Kyiv, and Fr Adam Ziółkowski SDS.
The Australian delegation comprised Melbourne Archbishop Peter A Comensoli, Hobart Archbishop Julian Porteous, Port Pirie Bishop Karol Kulczycki SDS, Ukrainian Catholic Church Australia Vicar General Fr Simon Cjuk and Melbourne Archdiocese chancellor Annie Carrett.
Although brief, this was a journey that unfolded not just in kilometres but in understanding.
There is much to reflect on, and much to determine in terms of how the Church in Australia might best support the Ukrainian people.
The visit, though brief, has confirmed the fraternal commitment of the Church in Australia to supporting the people of Ukraine. On their return, the bishops will look to build on the connections made. But what has been learned will also need to be worked through — just as the people of Ukraine are relearning how to live and what it means to plan for a future.
FULL STORY
'Our friends are our hope': reflections on a three-day visit to Ukraine (Melbourne Catholic)
RELATED COVERAGE
Archbishop Julian visits war-ravaged Ukraine (Hobart Archdiocese)