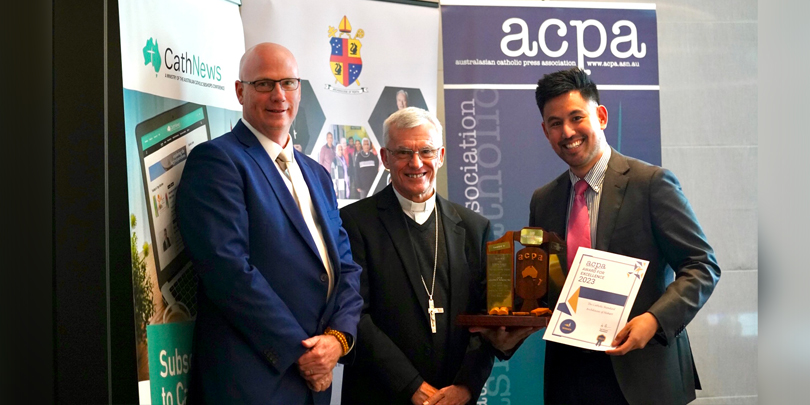 Hobart Archdiocese's publication The Catholic Standard won the top award at the 2023 Australasian Catholic Press Association awards held last night in Perth.
The 12-page monthly newspaper, produced by a small team, received the Bishop Kennedy Award for Overall Excellence in a Catholic Publication.
"The Catholic Standard eminently reflects the uniqueness and richness of the Catholic community of Australia's only island state," the judges' comments read. "It is an excellent balance of local, national and international news, commentary and feature stories."
"The Catholic Standard does an outstanding job of serving the Catholic community of Tasmania by providing them with well-written, informative, uplifting, relevant and diverse content. For this reason, it richly deserves to be considered the 'Best Catholic Publication' in Australia.
More than 50 Catholic media and communications professionals gathered for the ACPA conference and awards night, which took place this week. The awards, which are held annually, recognise excellence in Catholic media across Australia, New Zealand and the Pacific.
This year's conference theme focused on the words of Pope Francis from his 2023 World Communications Day message: Speaking with the Heart: The Truth in Love (Ephesians 4:15). In that, Pope Francis encourages Catholic media professionals to communicate with an "open heart and arms".
ACPA President Neil Helmore, from the Diocese of Townsville, congratulated the team at The Catholic Standard.
"As Catholic media, our role is to ensure we announce the good news of our faith, and The Catholic Standard is a prime example of how this important task is fulfilled to the highest quality," Mr Helmore said.
"I congratulate all the winners and runners-up and thank all ACPA members who came together for this special occasion, to learn and grow with each other in faith."
CathNews is a proud sponsor of the 2023 ACPA conference and awards.
FULL STORY
Small archdiocesan paper takes out the big award at Australasian Catholic Press Association 2023 conference (ACPA)