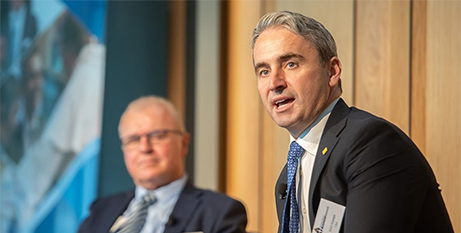 The Australian economy remains robust, despite the economic pressures and cost-of-living crisis, the CEO of Australia's largest bank has told members of the Sydney Catholic Business Network. Source: The Catholic Weekly.
Commonwealth Bank's Matt Comyn briefed the network in a Q&A-style address on the impact of current economic conditions, reflecting that even though we were experiencing some of the lowest economic growth in the past 40 years, the silver lining is that the economy is still growing.
Mr Comyn discussed the difficulties banks, corporations and the not-for-profit sector face combatting cyber security threats in one of the world's most "trusting and affluent" societies, along with what the bank is doing to support Australians as they face increasing household cost-of-living pressures.
Speaking to hundreds of members including senior members of the clergy, business and community leaders and politicians, Mr Comyn also discussed how strong and stable banks benefit all Australians.
He referenced the increase in social initiatives undertaken by the bank to vulnerable people, including victims of domestic violence and financial abuse.
Sydney Archdiocese's executive director of administration and finance Michael Digges said he was delighted to have the head of Australia's largest bank sharing his knowledge with business network members.
Mr Digges said that in the face of difficult times, Catholic social teaching is now more important than ever when it comes to running a business.
"Every modern workplace is looking for a point of difference for their employees. Our Catholic values and beliefs rooted in deep solidarity and the emphasis we place on charity and family life shows that growing strong Catholic businesses have a lot to offer in the fabric of contemporary modern life," Mr Digges said.
FULL STORY
Commbank CEO says economy is robust despite cost of living pressures (The Catholic Weekly)