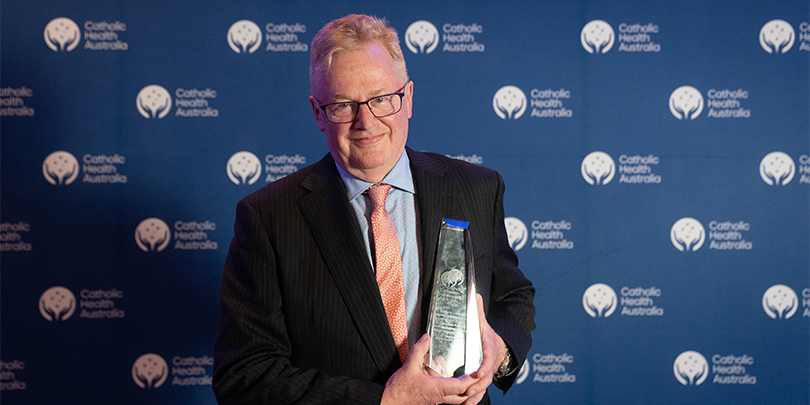 A renowned gynaecologist/obstetrician who has worked at Melbourne's Mercy Hospital for Women for almost 40 years has been awarded this year's Sr Maria Cunningham Lifetime Contribution Award at Catholic Health Australia's annual conference.
Michael Rasmussen was handed the honour in front of 300 delegates at the conference, held in Perth on August 29.
Dr Rasmussen began work as a clinician at what's now known as Mercy Hospital for Women in 1985. His current post is Mercy Health's Clinical Director of Women's and Children's Programs.
Dr Rasmussen said he was honoured and humbled to receive CHA's most prestigious award, named in honour of Sr Maria Cunningham, who was instrumental in establishing Catholic Health Australia.
"The award speaks in no small part to the support of my family and colleagues. My thanks extend to all those I've worked with since arriving at what was then the Mercy Maternity Hospital, back in 1985," Dr Rasmussen said.
He said the achievement allowed him to reflect on so many highlights across his years working at the Mercy and the evolution in gynaecology, prenatal diagnosis, perinatal medicine and in community expectation.
"This award highlights the role clinical leaders play in providing healthcare to the women and families we serve, and acknowledges the challenges we face," he said.
Staff and colleagues have lauded Dr Rasmussen for his leadership skills, his intelligence, kindness and compassion.
His colleagues described him as an "institution" who has always strongly advocated for women both as patients and trainees at a college level.
Mercy Health group chief executive officer Angela Nolan said Dr Rasmussen had inspired and supported many other practitioners within his field.
"Michael has influenced the next generation in a myriad of ways. He has led through example in terms of providing best care and advocating for women and trainees at a college level and within the community," she said.
FULL STORY
 Revered practitioner honoured at Catholic Health Australia conference (Catholic Health Australia)