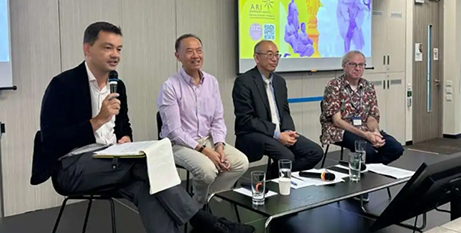 Academic scholars have stressed the need for more focus and effort on studies on richness and diversity of Catholicism in Asia, which they say remain largely underdeveloped. Source: UCA News.
The remarks came during a hybrid roundtable discussion titled "Catholic Studies in Asia: Prospects and Challenges" hosted by the Asia Research Institute (ARI) of the National University of Singapore in the city-state on Monday.
It discussed the rise of Catholic Studies across academia with special attention to Asia. It also focused on challenges that this emerging field of research faces in the region, and the opportunities Asian societies and political systems provide to enrich this conversation.
The event marked the second anniversary of the Initiative for the Study of Asian Catholics (ISAC) of the ARI. ISAC is a research initiative designed to increase social scientific research on Catholics in Asia.
Michel Chambon, a French lay theologian and research fellow of the ARI, hosted the program.
It was "part of a broader effort and a long-term initiative to support research on the intersection of Asia and world Catholicism," Mr Chambon, the ISAC coordinator, said in his opening remarks.
Among the dignitaries present were Janet Ong, Singapore's ambassador to the Holy See, and Archbishop Marek Zalewski, the apostolic nuncio in Singapore.
Jonathan Tan, a Malaysian theologian, said there had been an "emergence of an interest in global or world Catholicism as a field of study," which moved from something that was "European or Vatican driven" to "global Catholicism or world Catholicism."
Panellist George Yeo said the study of Catholicism could help students realise the "cellular robustness" of the Church, which is acquired through the smaller parts that function with relative independence.
"You can destroy parts of it, but it doesn't affect the other parts because the other parts are helped by transcendental qualities," he said.
FULL STORY