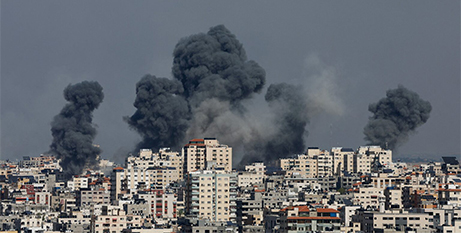 Pope Francis and the Latin patriarch of Jerusalem have responded to the sudden outbreak of conflict in Israel and Palestine over the weekend. Source: CNA.
At the end of his weekly Angelus address at the Vatican yesterday, the Pope said was following the violence "with apprehension and sorrow," and issued an appeal to "please stop weapons attacks!"
The head of the Church in Jerusalem, Cardinal Pierbattista Pizzaballa, called for a de-escalation of the situation in a statement on Saturday.
"The continuing bloodshed and declarations of war remind us once again of the urgent need to find a lasting and comprehensive solution to the Palestinian-Israeli conflict in this land," he said.
A series of rocket attacks and incursions on Israel from Hamas militants had reportedly killed hundreds and wounded many between Saturday and Sunday morning.
The surprise attacks began early on Saturday morning, the start of the observance of the Jewish holiday Simchat Torah.
Israel reacted to the attacks by fighting back in southern Israel and launching airstrikes in Gaza. Israeli military official Daniel Hagari told reporters yesterday that "hundreds of terrorists" had been killed during fighting in Gaza and southern Israel, the Associated Press reported.
Prime Minister Benjamin Netanyahu said Saturday Israel is "at war."
Pope Francis said "terrorism and war do not bring any solution, but only death and suffering for many innocent people. War is a failure. Every war is a failure."
He said he is close to the families of the victims and called for prayers "that there will be peace in Israel and Palestine".
The Pope also recalled that the month of October is dedicated to the Rosary, and asked Catholics to continue to pray through the intercession of Mary "for the gift of peace for the many countries of the world marked by war and conflict".
FULL STORY
Pope Francis, Jerusalem patriarch react to violence between Israel and Hamas (By Hannah Brockhaus, CNA)
RELATED COVERAGE
Pope prays for peace in Israel and Palestine: 'Every war is a defeat!' (Vatican News)