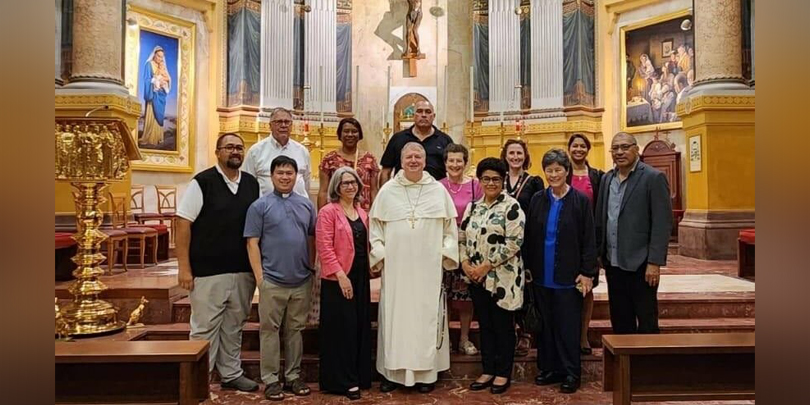 Oceania's Synod on Synodality delegates, facilitators and theologians gathered in Rome on Saturday, the concluding day of the first week of the Synod, to pray, debrief and share a meal together. Source: The Catholic Weekly.
The evening began with Mass for the Feast of Our Lady of the Rosary, held in the chapel of Domus Australia.
Sydney Archbishop Anthony Fisher OP celebrated the Mass, which was concelebrated by other bishops and clergy from Oceania participating in the synod.
Archbishop Fisher officially welcomed all the delegates to "my place, your place", the home away from home for Australian Catholics visiting Rome.
In his homily, Broken Bay Bishop Anthony Randazzo, who is also president of the Federation of Catholic Bishops Conferences in Oceania, preached on the importance of the Rosary in maintaining a close relationship with Christ.
After Mass and a guided chapel tour, delegates had a meal on the Domus Australia rooftop terrace. They shared their experiences of the pre-Synod retreat and first days of the Synod, exchanged highlights from their time in Rome so far and excitedly swapped photos of themselves meeting Pope Francis.
The Synod sessions recommenced yesterday, with the small groups beginning to focus on the Instrumentum Laboris' first area of focus: a communion that radiates.
FULL STORY
Oceania synod delegates come together for fellowship at Domus Australia (By Monica Doumit, The Catholic Weekly)